Aqua medic Titanium heater
Titan doppvärmare
Watch this product and we will notify you once it is back in stock.
Aqua medic Titanium heater
Titan doppvärmare
Titanium Heaters are the safe alternative to glass heaters in both fresh and saltwater aquaria.
The unbreakable titanium housing is saltwater resistant and the heaters have both overheat and dry running protection cutouts.
The heaters must be used in combination with a temperature controller.
For temperature-dependent control we recommend optional the use of our T controller twin.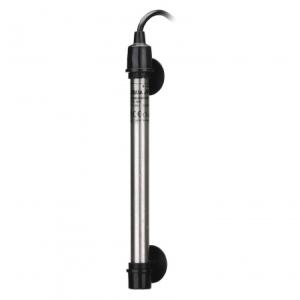 EAN code: 4025901112818Item code: 110.010

Titanium heater 100 W for aquaria up 100 - 250 l, lenght: 27 cm
EAN code: 4025901112825Item code: 110.020

Titanium heater 200 W for aquaria up 250 - 500 l, lenght: 28 cm
EAN code: 4025901112832Item code: 110.030

Titanium heater 300 W for aquaria up 500 - 1,000 l, lenght: 30 cm
EAN code: 4025901112849Item code: 110.050

Titanium heater 500 W for aquaria up 1,000 - 1,500 l, lenght: 32 cm